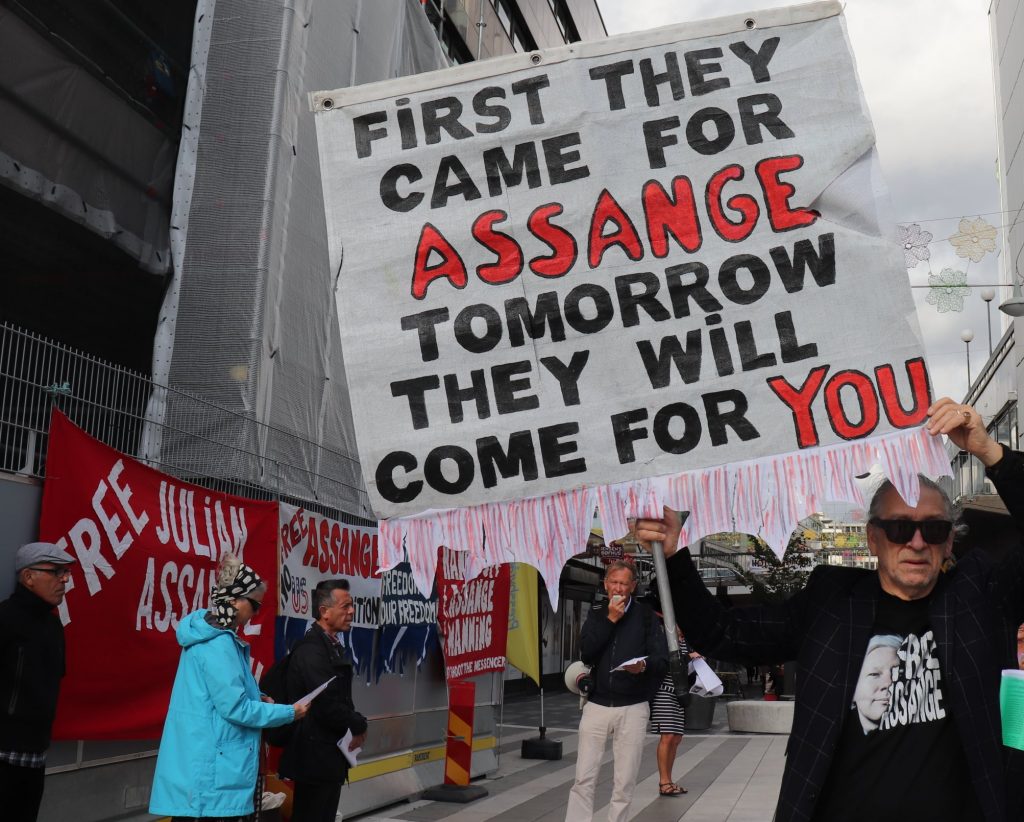 In July last year, initiatives were taken for solidarity manifestations for Julian Assange and freedom of speech in Stockholm, with police permission. We had then three manifestations with speeches in Swedish, English and Spanish, music, song and banners outside Ecuador's embassy, and one outside the UK embassy with several appeals. A speech in English was handed over to the embassy staff.
We also had a manifestation 200 meters from the US embassy, not allowed to come closer.
In mid-August last year, the network "The Support Committee for Julian Assange" was formed by a dozen associations: Folket i Bild Kulturfront (FIB/K), Stockholm, FIB-juristerna(FIB lawyers), Charter 2008, Swedish Doctors for Human Rights (SWEDHR), Cambio Foro Bolivia-suecia (Forum Bolivia -Sweden), Iraq solidarity organisation, Yemen solidarity organisation, Syrian solidarity organisation, Swedish-Cuban Association and Sveriges Fredsråd) (the Swedish Peace Council).
A new manifestation in central Stockholm was arranged at Christmas time.
The work took off again a few days after Julian Assange 11/4 was taken out of Ecuador's embassy.
We have since arranged over ten events in central Stockholm. Each time with speeches, flyers, speakers and banners. The latest manifestation was 7 September.
On 26 September we are arranging one meeting with Julian Assange's father John Shilton, and others, at the Swedish Parliament (Riksdagen) , and another at the Solidarity house in Stockholm.
We are only 30-40 active, and very few are young. Our unsystematic attempts to broaden participation with well-known journalists and associations such as Amnesty and the PEN club have so far failed. But PEN International and PEN Sweden have made good statements for Julian Assange and we have established contact with PEN Sweden.
On October 12, FiB-Kulturfront's Stockholm department will organize "Forum on the threats to freedom of speech", where one of the lectures will address Assange's situation.