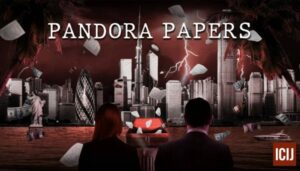 I den nyligen publicerade artikeln Pandoras ask: Miljoner dokument avslöjar makthavare som använder skatteparadis – men "glömmer" delvis de i USA. skrev jag (något modifierat):
"ICIJ undersökte och analyserade också användningen av truster i USA (US trusts) med hjälp av sökord och matchningar med offentlig data, bland andra metoder. Informationen är allmänt hållen och utan utpekande av företag eller individer.
ICIJ identifierade mer än 200 truster som fanns i eller skapades i USA från 2000 till 2019, med det största antalet registrerade i South Dakota. Trusterna var kopplade till människor från 40 länder (exklusive USA). ICIJ identifierade tillgångar i enskilda fonder till ett värde mellan 67 000 och 165 miljoner dollar mellan 2000 och 2019. Uppgifterna visar att amerikanska truster innehade tillgångar värda totalt mer än 1 miljard dollar (ett jämförelsevist litet belopp). De inkluderade amerikanska fastigheter och bankkonton i Panama, Schweiz, Luxemburg, Puerto Rico, Bahamas och på andra håll.
ICIJ kunde identifiera och samla in data om trusts från 15 amerikanska delstater och District of Columbia." här. Och de övriga 35 delstaterna?
* Läckan liknar mycket de Panama Papers som ICIJ avslöjade 2016.
* Mycket viktigt, ja avslöjande är att rika människor, politiker och företag från USA knappast nämns förutom den allmänna informationen ovan – lika litet som i Panama Papers. Är de exceptionellt hederliga?
2018 skrev jag "Det handlar om avancerad skatteplanering där man utnyttjar svagheter i olika länders skatteregler och via bland annat brevlådeföretag minimerar sin skatt. Som exempel nämndes att Apple betalar 1,5 % skatt på sina vinster utomlands, medan bolagsskatten i USA är 35 % (och 22,3% i kapitalistvänliga Sverige). Och Apple har fått sin belöning – nu ligger företaget på första listan även företag med dålig moral. Nej, vad skriver jag – ska vara första plats bland företag med värdefulla varumärken. Ursäkta." Relaterat. Apple – världens bästa skattesmitare.
I artikeln skrev jag "Independent rapporterade  att storbolag i USA är mycket stora skattesmitare (medan Putin och Assad är vita enligt rapport från Panama Papers).
Independent rapporterade  att storbolag i USA är mycket stora skattesmitare (medan Putin och Assad är vita enligt rapport från Panama Papers).
Många massmedia ignorerade sannolikt denna information. I centrum 2018 står diverse insinuationer om att Putin och Assad och Syriens president nog ändå är involverade på något sätt.
De 50 största amerikanska företagen har mer pengar undangömda utomlands än hela BNP i Spanien, Mexiko och Australien. Tillsammans har de motsvarande 1300 miljarder dollar i områden där pengarna inte beskattas i USA, enligt en ny rapport från Oxfam. Independent
Pål Steigan har analyserat detta mer i en artikel idag och jag återger detta nedan, något förkortat Pandora Pampers – det stinker lang vei
---
Pandora Pampers – det stinker lang vei
Han skriver: Det är högst tveksamt att detta är en läcka i ordets vanliga bemärkelse eller att detta är resultatet av verklig, grävande journalistik. Ju mer som framkommer om detta desto mer framstår det som ett uppdrag från Biden -administrationen.
International Consortium of Investigative Journalists (ICIJ), som har organiserat det internationella avslöjande -teamet sponsras av Ford Foundation, Luminate (det vill säga Pierre Omidyar, eBay) och Open Society Foundation, det vill säga George Soros.
Vi påpekade hur selektiv och konstig denna "uppenbarelse" är:
Jag (Pål Steigan) frågar igen: Var är Rothschild, Rockefeller, Carnegie, Ford, Soros, Clinton Foundation, BlackRock, Vanguard, State Street? Var är Google, Facebook och Bill Gates?
Planterad av Biden -administrationen
Den 3 juni 2021 lanserade Biden -administrationen sitt "Fight Against Corruption", som ett stort internationellt inriktat initiativ. Samma dag publicerade Vita huset sitt memorandum om upprättande av kampen mot korruption som ett av USA: s centrala säkerhetsintressen.
Under avsnittet "Strategi" står det:
c) Hold accountable corrupt individuals, transnational criminal organizations, and their facilitators, including by, and where appropriate, identifying, freezing, and recovering stolen assets through increased information sharing and intelligence collection and analysis, criminal or civil enforcement actions, advisories, and sanctions or other authorities, and, where possible and appropriate, returning recovered assets for the benefit of the citizens harmed by corruption;
…
(e) Support and strengthen the capacity of civil society, media, and other oversight and accountability actors to conduct research and analysis on corruption trends, advocate for preventative measures, investigate and uncover corruption, hold leaders accountable, and inform and support government accountability and reform efforts, and work to provide these actors a safe and open operating environment domestically and internationally;
(f) Work with international partners to counteract strategic corruption by foreign leaders, foreign state-owned or affiliated enterprises, transnational criminal organizations, and other foreign actors and their domestic collaborators, including, by closing loopholes exploited by these actors to interfere in democratic processes in the United States and abroad;
Den amerikanska regeringen kommer således att bedriva sin så kallade "kamp mot korruption" "genom ökad informationsdelning och underrättelseinsamling och analys" genom att "stödja och stärka det civila samhället, media och andra aktörer för tillsyn och ansvar för forskning och analys" av "motverka strategisk korruption av utländska ledare, utländska statliga eller anslutna företag, transnationella kriminella organisationer och andra utländska aktörer och deras inhemska partner."
Är inte detta nästan en uppdragsbeskrivning av fenomenet Pandora Papers?
Under hans frågor och svar efter lanseringen sa en representant för den amerikanska regeringen:
"Det finns stödlinjer som till exempel där vi har bildat undersökande journalistiska organisationer. Det jag direkt tänker på är OCCRP, liksom utländskt bistånd som går till icke-statliga organisationer, frivilliga organisationer och sist men inte minst, som också arbetar med utredningen av antikorruption. "
Det går inte att säga det tydligare. Detta har startats av Biden -administrationen via bland annat Organized Crime And Corruption Reporting (OCCRP).
Och vem finansierade projektet Organized Crime And Corruption Reporting (OCCRP)? Ja, som Moon of Alabama bland annat påpekar: Rockefeller Brothers Fund, Ford Foundation, Storbritanniens Commonwealth & Development Office, International Center for Journalists (finansierat av Bill & Melinda Gates Foundation), Luminate, U.S. Agency for International Development, National Endowment for Democracy (CIA) och Open Society Foundations, för att nämna några.
Kort sagt: det här är inte grävande journalistik, det är inte ens journalistik. Det är behandling av information som planterats av den amerikanska regeringen och olika miljardärstiftelser för att tjäna deras politik och strategi. Och därför finns det inget mysterium varför de inte har fångat några riktigt stora fiskar i näten utan bara sådan som passar USA:s regering.